GREYWOLF GROUP
Greywolf S.A. is a Polish investment group that brings together companies and agencies with over 25 years of experience in marketing.
In Greywolf S.A. we believe in creating relationships - between people and your brand, but also between companies owned by the Group. Using the knowledge and experience of our experts we provide comprehensive client service and know-how of different industries. Every day our specialist transform dreams and ideas of customers into projects that bring measurable financial returns and social benefits. Thanks to the experience we gathered for the past 25 years we trust our instincts, we are courageous and innovative in our activities. We are constantly looking for new solutions and are not afraid to go against the current. We invest where we see potential for further development of the company.
Our holding consists of six brands: Greywolf strategies, Fastline Advertaising , BestDoctor, Fastline Extreme Events, BestPharma Solutions, Tablesetter.
Business is our natural environment.
Vision
Our goal is to create original solutions for customers, provide outstanding level of expertise by leveraging the synergies of the Group companies and the constant expansion of Greywolf GROUP activity to another industries.
Mission
As a group we want to be a determinant of creativity and innovation in business, which creates solutions that respond to important needs of the society.
Innovation in all aspects
The ability to comprehensively meet the needs of the customer
High quality of customer service
Delivering assigned tasks on time and in high quality
Co-operation and exchange of practical experience between Group companies – Synergy
Stability and security of the Group's finances
Social and environmental responsibility
Building lasting relationships with customers
Investment in innovative solutions and industries.
Strong leadership of the GREYWOLF S.A. which guarantees the stability of the whole Group
01.

Creation

We create ideas that are effective and fit rapidly changing business world.
02.

Analysis

Thanks to the market reaserch we did over the years, we have the courage to choose solutions that bring dynamic development of your business.
03.

Implementation

We implement ideas, that will transform into real profits and measurably raise brand value.
"The best way to predict the future is to create it."

Peter Drucker
25 years of existance on the market is a proof that our customers trust us and still entrust with future projects.
Our biggest strength is a team of experts dedicated to specific industries and a broad portfolio of completed projects.
We have the courage to invest in unconventional solutions and follow our instincts.
Wolves are independent and courageous, passionate for freedom and endless space…
…. but also caring. Wolves stick together, help others in the herd. Currently GREYWOLF SA is involved in a number of social and environmental projects.
WWF
By working with WWF GREYWOLF S.A. supports wolves, five of them have already joined our pack!
ACADEMY OF YOUNG WOLVES IN BUSINESS
A program that promotes young talents. More information is available at: office@greywolfgroup.pl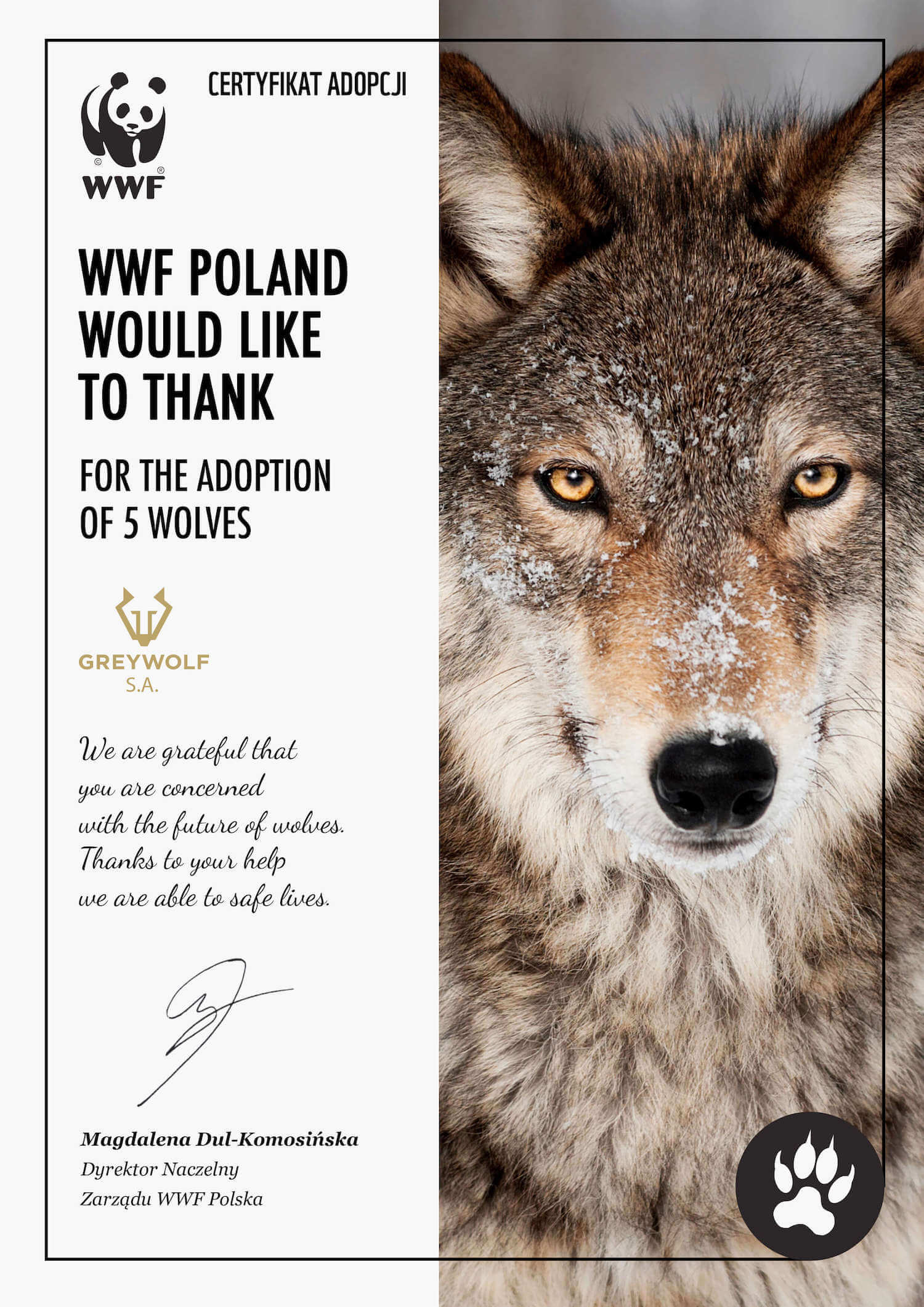 INVESTOR RELATIONS
GREYWOLF S.A. provides all capital market participants with detailed information about recent news in the companies and the Group. We unified information policy in accordance with the highest standards of communication and the principles of good business practices.
More detailed information on Investor Relations for shareholders, investors, analysts and other stakeholders are available after contact with a representative of the board of GREYWOLF S.A. We have information on the activities of the companies, stock quotes, presence on the capital market, corporate governance and information provided in current and periodic reports.